Posts for tag: cosmetic dentistry
By Central Jersey Dental Arts
January 08, 2018
Your smile is not as bright as it once was. You brush and floss, but your teeth appear yellow and dull. Your co-worker had her teeth
professionally. Could teeth whitening be right for your smile? Dr. Nainesh Desai, your dentist at Central Jersey Dental Arts in Piscataway, NJ answers questions such as yours. He offers whitening as part of his premiere cosmetic dentistry services. Here are details on this popular and well-respected process.
Teeth change over time
Just as your skin develops fine lines and your hair grays, your teeth naturally yellow and darken with age. The enamel tends to thin, exposing the yellow dentin beneath.
Also with time, teeth encounter dark foods and drinks, tobacco, and even prescription drugs that stain enamel. Black tea and red wine, for example, contain molecules called tannins, which deeply discolor teeth.
In addition, tooth color changes because of oral trauma (the enamel develops fine cracks), and not surprisingly, poor oral hygiene makes your teeth yellow. Accumulated plaque and tartar catch and hold staining food residues.
Is professional whitening the solution?
If you're interested in how this simple, safe service could enhance your appearance, come to Central Jersey Dental Arts in Piscataway, NJ. Dr. Desai will examine your teeth and gums to make sure they are healthy and that no hidden issues are causing your dental stains. Then, he'll offer you a choice of in-office whitening or at-home whitening.
Here's how the in-office version works. You'll sit comfortably in the dental chair as Dr. Desai installs a plastic dam, or retractor, to protect your lips and cheeks.
Then, the dentist coats the front of the teeth with a highly concentrated hydrogen peroxide gel. As this gel penetrates the enamel, it oxidizes the staining organic matter, lifting it from the tooth surfaces. In about an hour, the procedure is done, and teeth are up to eight shades brighter--quite a difference!
If you choose at-home whitening, you'll use custom-made acrylic trays to deliver the peroxide gel. This gel is less concentrated than the in-office version; so you'll wear the trays daily for about a week. Dr. Desai determines how long the trays stay in place. With this method, results are similar. You'll be pleased!
Keep your smile bright
Come to Central Jersey Dental Arts for your regular cleanings and check-ups semi-annually. Also, follow the guidelines of the American Dental Association: floss daily, and brush with a fluoride toothpaste for two minutes twice a day.
Regarding what you put in your mouth, Dr. Desai recommends reducing staining foods. If possible, drink tea or cola with a straw, and always consume plenty of water each day. Water stimulates saliva which has cleansing and antibacterial benefits.
Of course, for your overall health and bright smile, stop using tobacco. For a smoking cessation program, consult your family doctor.
Give professional whitening a try
It's a small investment in one of your greatest personal assets--your smile. Call Central Jersey Dental Arts in Piscataway, NJ, today for a cosmetic dentistry consultation at (732) 981-1040.
By Central Jersey Dental Arts
December 30, 2017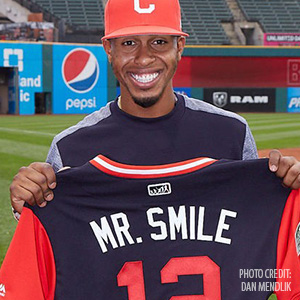 At the first-ever Players Weekend in August 2017, Major League Baseball players wore jerseys with their nicknames on the back. One player — Cleveland Indians shortstop, Francisco Lindor — picked the perfect moniker to express his cheerful, fun-loving nature: "Mr. Smile." And Lindor gave fans plenty to smile about when he belted a 2-run homer into the stands while wearing his new jersey!
Lindor has explained that he believes smiling is an important part of connecting with fans and teammates alike: "I've never been a fan of the guy that makes a great play and then acts like he's done it 10,000 times — smile, man! We've got to enjoy the game."
We think Lindor is right: Smiling is a great way to generate good will. And it feels great too… as long as you have a smile that's healthy, and that looks as good as you want it to. But what if you don't? Here are some things we can do at the dental office to help you enjoy smiling again:
Routine Professional Cleanings & Exams. This is a great place to start on the road toward a healthy, beautiful smile. Even if you are conscientious about brushing and flossing at home, you won't be able to remove all of the disease-causing dental plaque that can hide beneath the gum line, especially if it has hardened into tartar, but we can do it easily in the office. Then, after a thorough dental exam, we can identify any problems that may be affecting your ability to smile freely, such as tooth decay, gum disease, or cosmetic dental issues.
Cosmetic Dental Treatments. If your oral health is good but your smile is not as bright as you'd like it to be, we can discuss a number of cosmetic dental treatments that can help. These range from conservative procedures such as professional teeth whitening and bonding to more dramatic procedures like porcelain veneers or crowns.
Tooth Replacement. Many people hide their smiles because they are embarrassed by a gap from a missing tooth. That's a shame, because there are several excellent tooth-replacement options in a variety of price ranges. These include partial and full dentures, bridgework, and dental implants. So don't let a missing tooth stop you from being Mr. (or Ms.) Smile!
If you'd like more information about oral health or cosmetic dentistry, please contact us or schedule an appointment for a consultation. You can also learn more by reading the Dear Doctor magazine articles "Beautiful Smiles by Design" and "The Impact of a Smile Makeover."
By Central Jersey Dental Arts
September 27, 2017
Are you tired of metal fillings that look less than attractive? Yes, amalgam was the restorative material of choice for decades, and it's still
appropriate for some dental repairs. However, many areas of decay may fixed today with composite resin, an amazing mixture of plastic and glass particles. Beautifully life-like and seamless, tooth-colored fillings do the job discreetly. If you have a cavity, Dr. Nainesh Desai, your dentist at Central Jersey Dental Arts in Piscataway, NJ, likely will use composite resin to repair your tooth. Learn the details on the process here.
Just what is a cavity?
Frankly, a cavity is a problem that worsens if you don't treat it. Cavities, or tooth decay, are caused by oral bacteria which secrete corrosive acids on tooth enamel. Thriving in plaque and tartar on and between teeth, these microbes keep eating away at tooth enamel, dentin and even interior pulp so that root canal therapy, a dental crown or even extraction become necessary.
Dr. Desai dedicates a large portion of his practice to preventive dentistry--halting dental decay and gum disease in their tracks with services such as cleanings, X-rays, exams and more. However, when he detects tooth decay, he recommends immediate restoration, and composite resin definitely is today's best material. The American Dental Association says this synthetic material resists cracking exceptionally well.
The treatment
To place a tooth-colored filling, your Piscataway dentist first numbs the area around the tooth with a local anesthetic. When you are completely comfortable, he removes the decayed areas of your tooth.
Fortunately, because he is using composite resin, he removes far less healthy enamel than if he were placing an amalgam filling. Then, he put the resin in the prepared site, alternately layering the material and hardening it with a curing light. When the filling is complete, he does a final shaping, polishing and bite check.
The many benefits
Your tooth-colored filling will last for many years when you brush and floss daily and get your semi-annual cleanings and check-ups with Dr. Desai. Besides offering longevity, composite resin closely resembles natural tooth enamel, and it's not just about the color and sheen. Amazingly, composite resin actually flexes with the pressures chewing and biting place on your tooth. So your restored tooth is far less likely to fracture the way it could with amalgam as its filling material.
Contact us
If you think you have a cavity, or if you have ugly dark fillings you wish to replace, contact Central Jersey Dental Arts in Piscataway, NJ, for an appointment. Dr. Desai will explain the filling process fully and help you decide on a treatment plan perfect for your smile. Call today: (732) 981-1040.